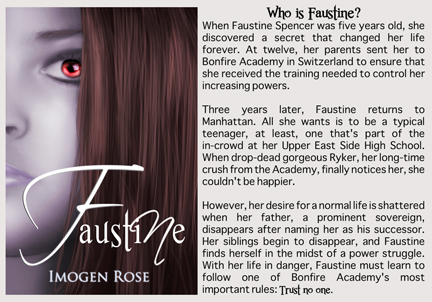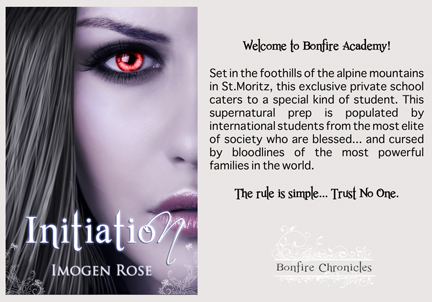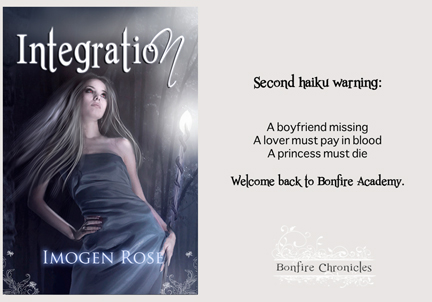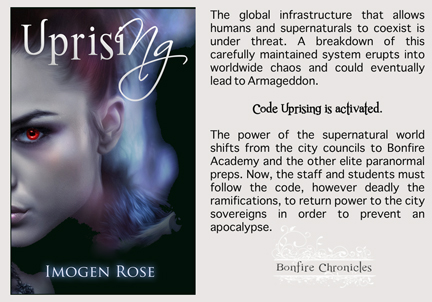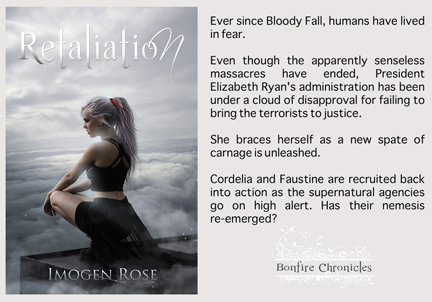 Before I started writing fiction, I unleashed my creativity through photography and digital art. My passion for photography is responsible for the thousands of photographs saved on my computer. Needless to say that it drives my kids and dog (who occasionally gets dressed up) bananas. I will snap away at whatever they may be doing, trying to capture and immortalize those moments. Even homework time isn't sacred.
The photograph used on the cover of Faustine was taken during homework time. My younger daughter, Lauren, was so engrossed by what she was doing, not paying any attention to me at all, when I reached over for my camera. Later on when I was flipping through the pictures I had taken, I stopped at one of them, it drew me in and stayed with me. It's this photograph that inspired the whole Bonfire Chronicles series.
I had no idea what the series would be about when I started writing. I played around with the photograph on Photoshop, messing around with the eye color, and the name Faustine popped into my head. I suddenly had a title for my photograph, which was now of a girl with red eyes… a vampire, perhaps? I had no idea who she was, or what she was when I started writing. The "Who is Faustine?" was very much a question for myself.
Once I had finished the book, I sent it to my then agent. She read it and felt that the stronger story would be the one preceding Faustine, that of her days at Bonfire Academy. I was thrown a little, having no desire to write a story from a twelve-year-old's voice. But as I was thinking, I imagined seeing Faustine walk into Bonfire Academy. I saw her from afar and high up, like I was looking down a window. It then struck me that the next story was not going to be written from Faustine's point of view, but from someone observing her—Cordelia was born, and the two prequel books (Initiation and Integration) were written.
We were then back in the present again. However, it wasn't as simple as continuing Faustine where I had initially left off. I now had to take into consideration all the events in the prequel books as well as the fact that Cordelia had her own following. Fans of the series wanted more Cordelia!
Uprising follows on, not just from Faustine, but also from the two prequel books. It, in addition, merges loved characters from the Portal Chronicles into the timeline.